There is now also a Nitrox depth table as a dive log template for the 4 logbook formats.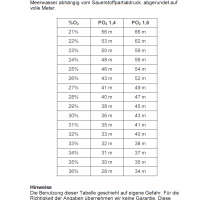 In addition, I changed many dive log template regarding the margins and cropped a little bit updated (the content has not changed). And there is a new version of the 3 dives version for the SSI DiveLog. This will follow for the other formats and will be announced here as well.
Please note that the dive log template are German at the moment. Stay tuned for an English version in the next weeks!
Click here for the dive log templates.
Have fun with it. :-)