Italian steam cargo ship west of Pula
Data & Description
Contributed by:
Martin Sebald
Description dive spot:
On her last trip, the Varese was on its way from Venice to Tunis.
When trying to get into Pula due to a heavy storm, the ship got into a minefield and ran on a sea mine. The Varese quickly sank to the muddy bottom of the sea at a depth of about 41 meters. The bow is broken off and is near the main part.
Well preserved is the iron hull, which shelters numerous fish. From the outside, the hull is overgrown with numerous moss animals, sponges and cave animals. The Varese has become a real reef. Often you also can meet congers and big scorpionfish, also lobster should be here.
The visibility on the wreck is often bad, also due to the often encountered strong current, you only see a few meters.
Book recommendations: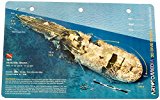 Teti in Vis Island - New Art to Media Underwater Waterproof 3D Dive Site Mapa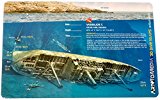 Vassilios in Vis Island - New Art to Media Underwater Waterproof 3D Dive Site Mapa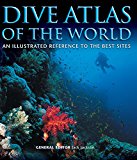 Dive Atlas of the World: An Illustrated Reference to the Best Sitesa
Last content update:
2007/02/27
Downloads:

Diving Center Petra - Wracktauchplätze
(16. September 2005, 262.0 KiB, 177 Downloads)
Local dive center:
Diving Center Petra
Boat trip:
~45 minutes from Rovinj
Position:
west of Pula
Rating¹:


Type of vessel:
Steam cargo ship
Difficulty²:


Weather:
Das Wetter für
Pula
Port of registry:
Italy
Maximum depth:
41 meters
Last cargo:
Phosphate
Length:
~65 meters
Beam:
9 meters
Launched:
1870
Sunk:
Januar 18th 1915
Reason sunk:
ran into a sea mine
Minimum depth:
32 meters
Gallery
¹ Dive site rating: The rating is a five star rating ("poor" to "outstanding") and based on the dive site itself and on the comparison of all dive sites in the area. It also reflects the personal opinion and preference of the contributor.
² Dive site difficulty: The difficulty rating is a five star rating ("beginner" to "technical diver") and based on the personal opinion of the contributor and maybe also on the experience the contributor had when diving this site. We take absolutly no responsibility for diving accidents or anything else. Please always be a safe diver and dive your level of experience and please also be aware of local laws and regulations there might be.
a Amazon affiliate link: If you order we get a very little commision. Important: The price on Amazon does not change for you! It is just a bonus which we receive for the recommendation.