Extension of "Le Rocher des Mèdes"
43° 1' 26.35" N, 6° 14' 34.98" E
Data & Description
Contributed by:
Alexander Schönleber
Book recommendations: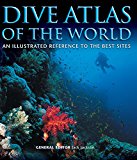 Dive Atlas of the World: An Illustrated Reference to the Best Sitesa
Last content update:
2007/02/20
Description dive spot:
La Piscine des Mèdes is the extension of "Le Rocher des Mèdes" and is an absolute beginner place, as the depth is only about 10 meters. Advanced divers are "thrown off" in the passage Rocher - Piscine and then dive to the boat.
The place is an abstract rock formation with little fish. However, the rocks are beautiful to look at and sometimes you can dive through a cave or gap.
As an alternative dive site quite okay, but nothing special.
Local dive center:
European Diving School
Weather:
Das Wetter für
Hyeres
Gallery
a Amazon affiliate link: If you order we get a very little commision. Important: The price on Amazon does not change for you! It is just a bonus which we receive for the recommendation.