Bay in the south of Île de Port-Cros
42° 59' 37.80" N, 6° 24' 9.84" E
Data & Description
Diving permit:
Anyone who does not dive there with a dive center must first sign the protection agreement with the national park in the harbor in the office of the national park by hand (!) and show it at checks. Otherwise, there is a risk of a dismissal!
Local dive center:
European Diving School
Weather:
Das Wetter für
Hyeres
Book recommendations: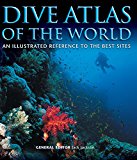 Dive Atlas of the World: An Illustrated Reference to the Best Sitesa
Description dive spot:
La Pointe de la Croix is ​​a bay in the south of Île de Port-Cros. Attention, here you may only dive at the fixed buoys! The GPS coordinates point to the southernmost tip of the bay. The anchor buoys are now west and east of it.
Groupers are often seen here directly after the descent. The dive site is characterized by a beautiful rock formation. Moray eels can be found in almost every gap. In addition, you will find here mostly goldlines and forkbeards.
Contributed by:
Alexander Schönleber
Last content update:
2007/02/20
Gallery
a Amazon affiliate link: If you order we get a very little commision. Important: The price on Amazon does not change for you! It is just a bonus which we receive for the recommendation.